Corner of Nasseri St,Valiasr St,
Tehran,
Iran
Level 15, Number 2551, Kian tower
ABOUT LEVEL 15, KIAN TOWER
ABOUT LEVEL 15, KIAN TOWER
The BEST flexible workspace in the world, taking into account aesthetics, WiFi capabilities, location, and community.
Navigate the coronavirus - Shared spaces cleaned every 4 hours. Social distancing enforced.
Kian tower is one of the most prestigious business centers located on Valiasr Street

 

Built in 2008 The development consists of 22 floors with 7 floors of underground parking facilities.

Company Headquarters serviced offices on the 15th floor boasts spectacular views of the Alborz Mountains in north of Tehran all the way through to Milad tower, the iconic landmark of Tehran.

The building is one of the very few buildings in Tehran with a helipad. It is surrounded by various amenities, dining options and cafes as well as a number of 5 star hotels, and is a short stroll away from Mellat park.

Unbeatable Coworking space: Hot Desks and Dedicated Desks from Toman 1,800,000 per month. Virtual Offices also available from Toman 800,000 per month.

Impressive meeting rooms and exclusive pantry - the best serviced office in Tehran.

This could be your address
SERVICED OFFICES TO FIT YOUR BUSINESS
SERVICED OFFICES TO FIT YOUR BUSINESS
Company Headquarters offers a variety of Serviced Office solutions to fit any type of business, including business with teams working remotely.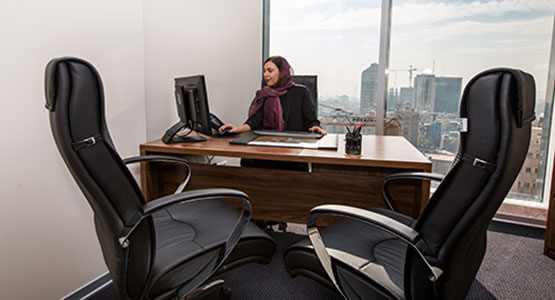 Private Serviced Offices
From Toman 8,000,000/month
Fully Furnished and Sound-rated
Company Headquarters Serviced Offices come fully furnished and include access to our facilities and support services, so you can cut costs and get to work the day you move in.
Fully furnished: Quality furniture, private and sound-rated
Internet / WiFi:

 

Fast, secure, any configuration. Local IT support
Shared Facilities:

 

Stylish coworking space, fully stocked pantry, great coffee and tea
Frosted glass entrance to each office ensures privacy & allows for natural light and a more open feel
Company Headquarters offers more space allowance per person than any other workspace operator
Office sizes:

Each office can support up to 10 remote workers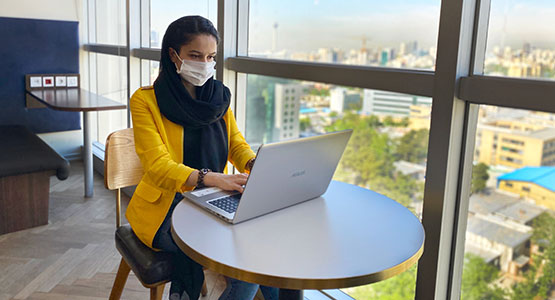 Hybrid Office for small businesses
One Office - Up to 10 Remote Workers
A Company Headquarters exclusive: have an office that supports remote team members just meters away. Your remote working team is set up for success and will get the support it needs to win.
Coworking space access: 3 hours/day

 

use for each remote team member in any location. Includes Fast and Secure Wi-Fi and great coffee!
1 hour/month private meeting room access
Choose your workstyle:

 

desk seating with privacy panel, booth seating, table seating, casual lounge chairs and phone booths
A professional receptionist forwards calls to your relevant team member, no matter where they are working. No need to work using private mobiles.
Mail and courier management

 

with home-forwarding options
In-house I.T. support
Less than the cost of a secretary
Our powerful address becomes your address to use on your cards, letterheads and web pages

Space - 1.8m wide corridors, spacious lounges and reception areas

Take your phone with you when you work remotely

Interactive voice mail - press 1 to go to your mobile

Voicemail to email bank up to 6 calls

Unbranded reception area, your business comes first

Fully equipped meeting facilities and AV equipment
Finest coffee, tea, and spring water

Tier 1 provider

Rocket fast Wi-Fi - unique password for security

Local IT team - global monitoring of our network

V.P.N. capable firewall protection

Book everything by contacting our team

Flexible leases, no long-term contracts!

One month rental deposit
Social distancing enforced
Your business will thrive in Company Headquarters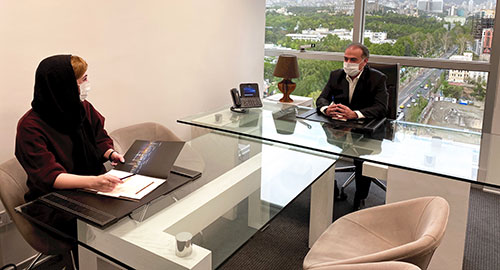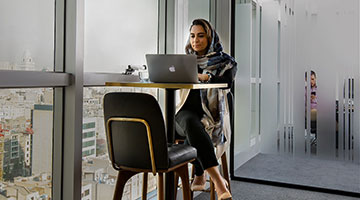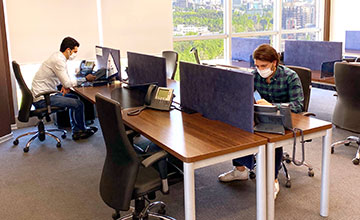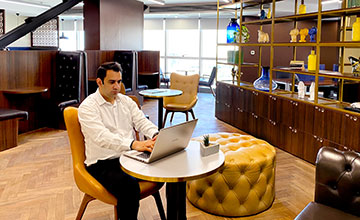 Valiasr is a tree-lined street in Tehran, dividing the metropolis into western and eastern parts built in 1922 to 1927, considering the end of asphalt plan it ended in 1933. It is considered one of Tehran's main thoroughfares and commercial centres. It is also the longest street in the Middle East, and was reported as one of the longest in the world by former BBC.
Within 5 minutes walking distance:
Ayandeh, sman, Ghavamin, Keshavarz & Melli are the nearest bank to Kian Tower
There are 3 hospitals near Kian tower; Shahid Rajaee Hospital another on Yasemi street and Noor Eye Hospital and pharmacy
Wispo café, Vangoghcafe gallery, Amitis, Yashel and so on
Melal hotel group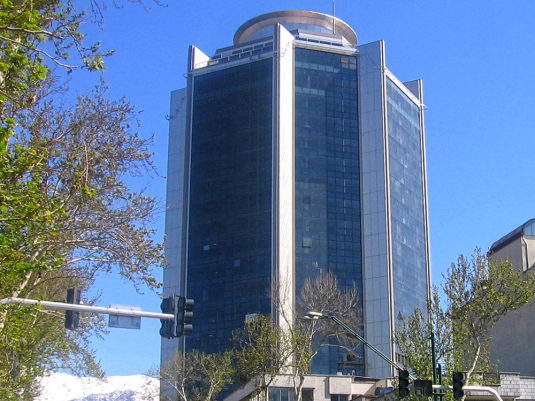 If you are to succeed
Meet, test and try!
Don't buy a lie!
Ensure you protect your business by confirmation.
Ask to be connected to the internet – How long does it take? 
Ask if the provider is Tier-1.
Ask to be allowed to check download speeds.
Ask to speak to IT support: Are they in-house or a third party? Are they even in the country?
Ask to be given a phone number so you can try the service before you buy.
Ask for a phone rate card.
Ask to meet your dedicated receptionist. The receptionist is the front line of your business.
Ask about disaster transfer.
Ask if your phone extension can roam at no cost to other locations.
Ask if the wireless internet is secure.
Ask what kind of firewall can be set up for your network.
Ask to see the transparency code of the provider.
Ask if incoming callers can dial '1' for voicemail to mobile.